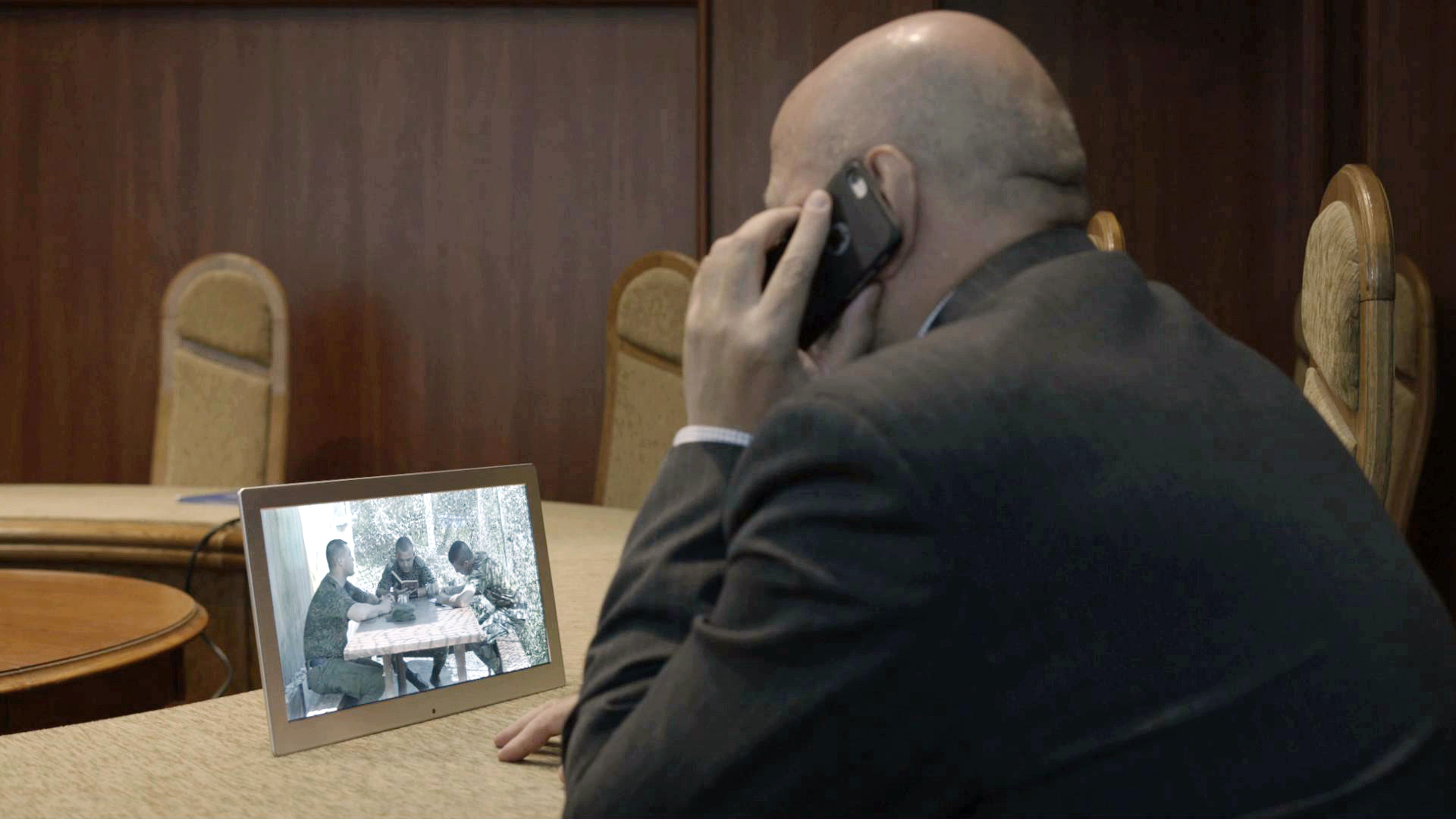 Frozen Conflict / documentary / 60 min / 2018 / director: Steffi Wurster / camera: Oliver Indra, Steffi Wurster, Alexander Tyzh, Eugen Schlegel / editing: Steffi Wurster / dramaturgicaö advisor: Janina Herhoffer / production advisor: Gunter Hanfgarn, Hanfgarn & Ufer / line producer: Andrey Smolensky / colour correction: Jakob Wehrmann, edelbytes postproduction / sound design: Jochen Jezussek / available on docfilm42 , realeyz / distributed by arsenal Berlin arsenal Berlin
Three soldiers are standing guard at the river. Not a particularly dramatic situation – more a sort of Waiting for Godot. Where is the enemy? Why all this fuss? The documentary sets out in search of the "conflict" between the Republic of Moldova and Transnistria. Starting from the observation at the tri-lateral post, the film zooms outward onto the political level: into the negotiation rooms of local politicians and onto the international stage. Under Germany`s OSCE chairmanship in 2016, the dialogue, which had collapsed since the Ukraine crisis, was resumed. The film considers the Transnistrian conflict as prototypical for the East-West relations. Intertwining big and small narratives, the film searches for basic patterns that keep the conflict alive and determine our thinking.
with:
Vasilii Gazea, Oleg Bulan, Andrey Zmeu
Stefan Driga, Eugen Botnari
Ion Stavila, Ambassador-at-large at Moldovan MFA
Vitaly Ignatiev, Vice-Premier and Minister of Foreign Affairs of Transnistria
Dmitry Palamarchuk, Deputy Foreign Minister of Transnistria
Stefan Wolff, Professor of International Security, University of Birmingham
Ljubjana Wüstehube and Dirk Splinter, Inmedio Berlin, institute for mediation, counselling, development

The documentary is part of the film project Posten Nr. 6 that was supported by the Stiftung Kunstfonds, the Robert Bosch Stiftung, the Berlin Senate Department for Culture and Europe and the Deutsch-Moldauisches Forum e.V.
ASTRA Film Festival
35. Kasseler Dokfest
MOLDOX Film Festival
ARTDOCFEST
nonfiktionale - Festival des dokumentarischen Films
VIEWPOINT Documentary Film Festival
Cronograf Film Festival
Nomination 1.Rhineland-Palatinate Award, Arc Film Festival, Mainz